Win a 2018 Toyota Corolla! Come by and Register to WIN!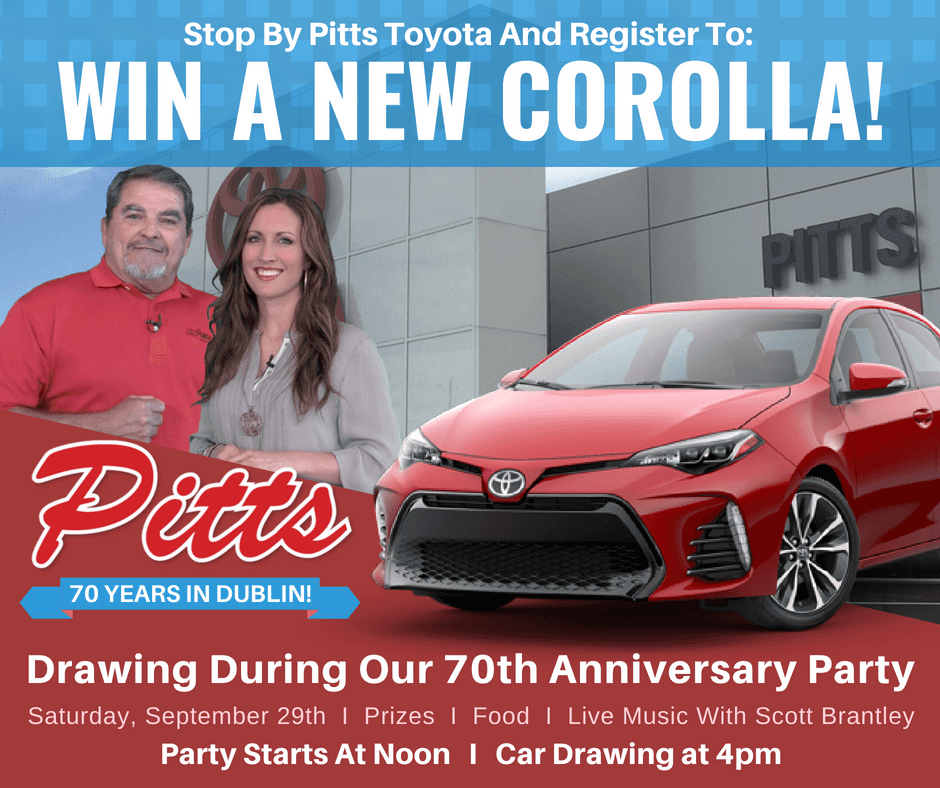 PITTS TOYOTA 70TH ANNIVERSARY GIVEAWAY OFFICIAL RULES
The 70th Anniversary Giveaway is sponsored by Pitts Toyota. Promotion is subject to all federal, state and local laws. Void where prohibited by law. By entering, participants agree to these Official Rules and the decisions of Pitts Toyota, which are final with respect to all Giveaway Promotion-related matters.
Promotion begins on September 1, 2018 and ends on September 29, 2018. Entry deadline is September 29, at 3:00 p.m. EST. Limit one (1) entry per person per household. The term "household" includes those persons whether related or not who live in the same residence.
ELIGIBILITY
Each participant must be eighteen (18) years old and a legal resident of the United States of America. Employees of Pitts Toyota (including Service Department, Collision Center) and their immediate family members (defined as spouse, parents, siblings or children) and households (whether or not related), are not eligible to enter or win.
GRAND PRIZE
Winner receives New 2018 Toyota Corolla SE. Odds of winning the prize depends on the number of entries received by Pitts Toyota prior to the Prize drawing. Winner does not have to be present to win. Unclaimed Prizes will not be awarded.
PRIZE RESTRICTIONS
All details of all prizes shall be at Sponsors' sole discretion. Winners assume sole responsibility for all costs associated with the prizes not explicitly outlined above, including without limitation, all federal, state and local taxes (if any). Prize Winner assumes sole responsibility for any fees, tax, surcharges on a prize, and any additional fees. Prize must be picked up at Pitts Toyota. Prize Winner must pick up prize voucher in person during normal business hours within fourteen (14) days of verification of eligibility. Dealership may require proof of identity to claim prize.
Prizes are not transferable, non-negotiable and not redeemable for cash, credit or merchandise. Prizes may not be sold, bartered or auctioned. Any portion of any prize not used by any winner is forfeit and no cash substitute will be offered or permitted. All prizes being offered are provided "as is" with no warranty or guarantee either express or implied by Sponsors. Prizes carry no warranty other than that offered by manufacturers. Sponsors have neither made nor are responsible or liable for any warranty, representation, or guarantee, express or implied, in fact or in law, relative to any prize, including but not limited to its quality for a particular purpose. Other restrictions apply.
TO ENTER
There is NO PURCHASE NECESSARY. To enter, visit Pitts Toyota during regular business hours starting September 1, 2018 at 9:00 a.m. EST until September 29, 2018 at 3:00 p.m. EST ("Promotion Period"). Locate the Official Promotion Entry Box and complete and deposit an Official Entry Form with the following required information: (a) name, (b) complete mailing address, (c) age, and (d) telephone number. Limit one (1) entry per person per household.
GRAND PRIZE WINNER SELECTION
On September 29, 2018, at approximately 4pm (EST) or within a reasonable time thereafter, Pitts Toyota will select one (1) name at random from the official entries. Subject to verification, the person whose name is so drawn will be declared the Grand Prize Winner of New 2018 Toyota Corolla SE.
If not present, Grand Prize Winner will be notified by the telephone number on the registration form. Grand Prize Winner will be required to provide valid identification, execute an affidavit of eligibility and, where legal, sign a publicity release. Acceptable identification includes a valid driver's license or other valid picture showing name and address.
NOTIFICATION OF OTHER PRIZE WINNERS
Other prize winners awarded during the anniversary celebration must be present to win. If you are not present at drawing, you forfeit the prize and another entry will be selected (with exception of Grand Prize, which does not have to be present to win).
DISQUALIFICATION/ALTERNATE WINNERS
In the event that any potential Winner (a) fails to satisfy any eligibility or verification requirement herein, (b) declines to accept the prize, (c) or is otherwise determined to be ineligible, Pitts Toyota may disqualify that individual. In the event that the potential Grand Prize Winner is disqualified, an alternate winner will be chosen by random drawing to be held as soon as reasonably practicable after initial winner is determined to be ineligible. Alternate winners are subject to all eligibility requirements and restrictions of these Official Rules.
PUBLICITY RELEASE
By accepting a prize, winners agree to allow Pitts Toyota the right to publicize their names, photographs (including the use and appearance of winner's photograph on Pitts Toyota website and social media outlets), likenesses, biographical information, e-mail address, voices and details of winning for purposes of this and future promotions without further compensation, except where prohibited.
LIMITATION OF LIABILITY/DISCLAIMER OF LIABILITY
Participants agree that Pitts Toyota's officers, directors, employees, agencies, and related persons are not responsible for lost, interrupted, or illegible, mutilated or damaged entry forms, or for entries that for any reason are not received by the deadlines stated above.
MISCELLANEOUS
All federal, state and local laws apply. Pitts Toyota shall be entitled to interpret these Official Rules as needed – including but not limited to rules regarding participation, selection of winners, deadlines, restrictions on prizes, and eligibility – and all of its decisions are final. By entering, participants agree to these Official Rules.
Pitts Toyota reserves the right to cancel, terminate or suspend this Promotion or any part of this Promotion should any non-authorized intervention, or other causes beyond its control, corrupt or impair the ability to carry out Promotion as intended.
Pitts Toyota reserves the right to prohibit any participant from participating in the Promotion if, at its sole discretion, Pitts Toyota finds such participant to be tampering with the operation of the Promotion, or if such participant repeatedly shows a disregard for, or attempts to circumvent, these Official Rules, or acts: (a) in a manner Pitts Toyota determines to be not fair or equitable; (b) with an intent to annoy, threaten or harass any other participant; or (c) in any other disruptive manner. Any person attempting to defraud or tamper with this Promotion in any way will be ineligible for prizes and may be prosecuted to the full extent of the law. Tampering includes attempting to enter more frequently than permitted by these Official Rules. Any failure by Pitts Toyota to enforce any of these Official Rules shall not constitute a waiver of such Official Rules.
Pitts Toyota reserves the right to correct typographical or clerical errors in any Promotional-related materials.
DISPUTES
By entering the Promotion, participants agree that (a) any and all disputes, claims, and causes of action arising out of or connected with the Promotion, or any prizes awarded, shall be resolved individually, without resort to any form of class action; (b) any and all claims, judgments and awards shall be limited to actual out-of-pocket costs incurred, including costs associated with entering the Promotion, but in no event attorneys' fees; and (c) under no circumstances will any participant be permitted to obtain any award for, and participant hereby waives all rights to claim, punitive, incidental or consequential damages and any and all rights to have damages multiplied or otherwise increased and any other damages, other than for actual out-of-pocket expenses.
All issues and questions concerning the construction, validity, interpretation and enforceability of these Official Rules, or the rights and obligations of the participants, Pitts Toyota shall be governed by, and construed in accordance with the laws of the State of Georgia, without giving effect to any choice of law or conflict of law rules or provisions that would cause the application of the laws of any jurisdiction other than the State of Georgia. Any legal proceedings arising out of this Promotion or relating to these Official Rules shall be instituted only in the federal or state courts located in the State of Georgia, County of Laurens and the parties consent to jurisdiction therein with respect to any legal proceedings or disputes of whatever nature arising under or relating to these rules. The invalidity or unenforceability of any provision of these Official Rules shall not affect the validity or enforceability of any other provision. In the event that any provision is determined to be invalid or otherwise unenforceable or illegal, these Official Rules shall otherwise remain in effect and be construed in accordance with their terms as if the invalid or illegal provision were not contained herein.
OFFICIAL RULES COPY
For a copy of the Official Rules visit pittstoyota.com.