Pitts Toyota Awarded Toyota's Prestigious Presidents Award
---

Wins
---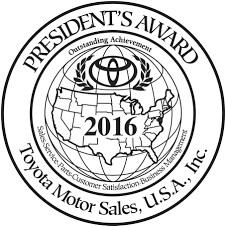 THE PRESTIGIOUS PRESIDENT'S AWARD
FOR THE 11TH  TIME.
Thank You For Supporting Us!
---
Pitts Motors wins the Prestigious Toyota President's Award
WINNER OF AWARD FOR ELEVENTH TIME.
Every year, Toyota Motor Sales, USA honors their outstanding dealerships with the prestigious President's Award. It is the highest honor that can be achieved by a Toyota dealership. In order to qualify as a President's Award winner, Toyota dealerships must excel in a number of different categories, including Sales Satisfaction, Service Satisfaction, Market Share Attainment, Vehicle Delivery Excellence and Employee Training & Certification. Dealerships must meet or exceed the standard in all areas of dealership performance in order to qualify for this award. Dealerships that meet the requirements in all categories receive name badge recognition at all dealer events, national recognition, and more.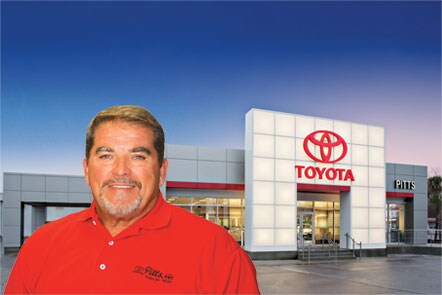 Pitts Toyota met all of the requirements for the award this year and is an 11 time recipient.
The goal is to help ensure that customers are satisfied not only at the time of purchase, but as long as they own their vehicle. Offering top quality cars and trucks is, of course, the first step - but only the beginning. Toyota dealerships strive to match the quality of products with the finest service in the industry.
"If the dealership doesn't meet the requirements, they are not eligible for the award," Jerry Pitts, Principal, said, "I am extremely proud of every department of Pitts Toyota as we can only win this coveted award if every team performs at their top level.
One of Pitts Toyota's primary goals is to emphasize the entire ownership experience by ensuring that customers are satisfied not only at the time of their purchase, but for the remainder of their time with their vehicle. "We make mistakes and are not perfect" says Pitts. "However, we do our best to continually improve and to be accountable with every customer. We are here for our customers".
"It's an honor to have been selected for this prestigious award," said Jerry Pitts. Our ability to demonstrate operational excellence in all departments and meet the high standards of the President's Award demonstrates our staff's commitment to quality and serves as a model for all dealerships. Thanks to all our staff for their exceptional dedication to continuous improvement and to the Toyota brand.
---